Providing Quality
Air-Conditioning Units and Services
ABCO Mechanical Corp. has been serving the residential and business communities of Manhattan, Brooklyn, and Queens since 1956. We specialize in the repair and maintenance of all major brands of air-conditioning units, including: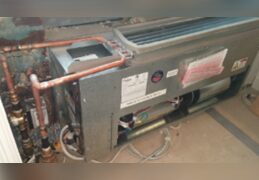 For more than 64 years, we have been providing top-quality sales, installation, and repair services for commercial and residential establishments.
We do new hole cuts complete with water-proofing and exterior masonry work.
Finding The Right
Product for You
Once your air conditioner reaches a certain age, you will find that a new one is better and more cost-effective. We can help you in choosing a brand and model that will best fit your budget and needs and install it for you.
Maintenance
and Repair Services
Certain issues develop as an air conditioner gets older—especially if it is not regularly maintained. You can make sure that every part gets repaired or replaced as soon as they wear down by having a yearly checkup from a professional. Regular maintenance reduces your unit's risk of breaking down in the middle of a heat wave.
Expect Outstanding
Customer Service
We are a family-owned-and-operated business committed to exceeding the expectations of our clients. Our company is here to make sure you get only the best quality of services from our hard-working team.
Our staff speaks both English and Spanish to better serve our wide clientele.
Reach out to our team today to learn more about what we do. We are looking forward to meeting you.
Whether you want to make sure that your AC is still functioning properly or you want a new one, ABCO Mechanical Corp. is the company to turn to. We offer free estimates and respond to calls and messages immediately.
Reach out to us today to schedule an appointment for maintenance, repairs, or installations in Manhattan and its surrounding cities. You can call us at (718) 721-5003 or fill out our online form.